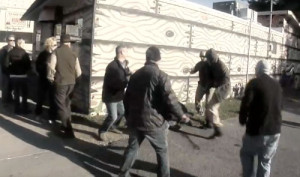 Modern technology helps us mobilize a gathering for dinner or other social events. The bad guys have the same capabilities but where mayhem might the goal. Flash mobs can cause a lot of harm and for a concealed carry holder, this can be a worst case scenario. In this first episode of season 4, Michael Bane, Michael Janich and Mike Seeklander guide you through different scenarios and solutions. We are also giving you tips and techniques for concealed carry and Marty Hayes is back with more legal advise. See below for links to more information.
The Best Defense #40 (Episode 1 – Season 4)
First aired on Outdoor Channel on 12-28-11. Last aired on 03-28-12.
The scenario from this episode is now available online in full version.
CLICK HERE….
Show Sponsors:
Episode Reference Links:

Episodes Season 4: