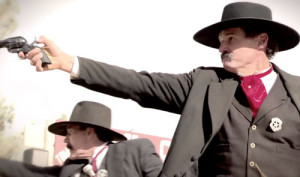 In this episode, Shooting Gallery travels to Tombstone, Arizona, to revisit the Gunfight at the OK Corral.  With the help of Phil Spangenberger, Sheriff Jim Wilson and Larry Mudgett, we take a look at the gunfight from a different perspective.
See below for links to more information.
Episode #152 – Season 12.
First Aired: 02-22-12
Airtimes on Outdoor Channel: 05-23 at 4:00PM | 05-23 at 9:00PM | 05-24 at 2:30AM, all times Eastern.
Show Sponsors:
Crimson Trace * Midway USA * Ruger Firearms * Stag Arms * Streamlight * Double Star * Daniel Defense * Taurus
Episode Reference Links:
Special thanks for this episode to:
Michael Bane's Wardrobe provided by:
Woolrich Elite Series Tactical
Rand Custom Hats
Other Reference Links:
Phil Spangenberger on TrueWestMagazine.com
Episodes this season: