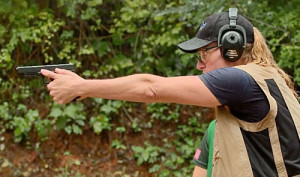 We venture to North Carolina for the IDPA National Championships to see if anyone can compete in this sport. In this case, the anyone is Katie Rowe, a professional stunt woman.
See below for links to more information.
Episode #160 – Season 13.
First aired 01-23-13
Airtimes on Outdoor Channel: 04-24-13 at 4:00PM | 04-24-13 at 10:30PM | 04-25-13 at 2:30AM. All times Eastern.
Show Sponsors:
Crimson Trace * Midway USA * Ruger Firearms * Streamlight * Double Star * Stag Arms * Rock Island Armory
Episode Reference Links:
Michael Bane's Wardrobe provided by:
Woolrich Elite Series Tactical
Rand Custom Hats
Other Reference Links: