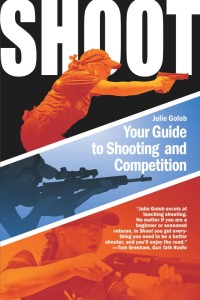 Multi-national and world champion pro shooter and Team Smith & Wesson Captain Julie Golob's first book, Shoot: Your Guide to Shooting and Competition, will make its public debut at the 2012 SHOT Show in Las Vegas.
Show attendees will have a rare opportunity to meet the author and obtain a signed copy of her book (while supplies last) at Rumpf Outdoor Titles, booth #1962, from noon to 1:00pm on Tuesday January 17, Wednesday January 18 or Thursday January 19.
The first book of its kind written by a woman and shooting champion, Shoot is published by Skyhorse Publishing and is 272 pages and printed in beautiful full color featuring dramatic photos by renowned shooting-sports photographer Yamil Sued. NRA Past President Sandy Froman penned a foreword for the book. Topics covered range from safety and a basic understanding of firearms for those new to shooting to tips and techniques for more advanced competition shooters.
"I am thrilled to be able to share Shoot with the shooting, hunting and outdoor industry at SHOT Show. Being able to attend the show, meet readers and sign copies of the book with the support of Rumpf Outdoor Titles and Skyhorse is such an incredible opportunity," said Julie.
Julie will also make appearances and sign autographs elsewhere at the show. Her current appearance schedule is as follows:
• Smith & Wesson, Booth #13731, Demonstrations and Meet & Greet, Tuesday – Thursday from 10:30 – 12:30 and 2:30 – 4:00, Friday 1:00 – 2:30
• Benelli USA, Booth #13356, Demonstrations and Meet & Greet, Tuesday – Thursday from 8:30 – 10:30, Friday 10:30 – 12:30
• Safariland, Booth #12762, Product Demonstration, Tuesday – Thursday from 1:00 – 2:00
• ASYM Precision Ammunition, Booth #2243, Meet & Greet, Wednesday from 4:00 – 5:00
• Gemini Custom Apparel, Booth #1818, Meet & Greet, Friday from 9:00 – 9:30
• Próis Hunting & Field Apparel for Women, Booth #10223, Próis Award Ceremony, Tuesday from 4:30 – 5:00
Skyhorse has assigned Shoot an official publication date of February 1, but the book is already available for retail pre-order on Amazon, Barnes & Noble and other booksellers' websites.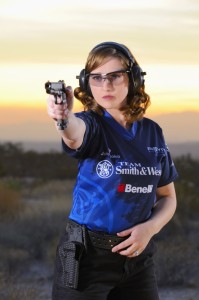 Author JULIE GOLOB is one of the most accomplished professional shooters in the world, having won more than 115 championship titles in international, national and regional marksmanship competitions over the past 20 years. A veteran of the elite U.S. Army Marksmanship Unit, she was named both U.S. Army Female Athlete of the Year and AMU Athlete of the Year. In September 2011, she won USPSA Ladies Revolver National Champion, thereby becoming the only shooter, male or female, ever to win a national championship in all six USPSA divisions. Learn more at www.JulieGolob.com.
Founded in 2006, SKYHORSE PUBLISHING was ranked #2 on the Publisher's Weekly list of fastest-growing independent publishers in the United States. Skyhorse and its imprints publish books on many different subjects in areas including sports and outdoors, military history, how-to, self-help, true crime, antiques and collectibles, transportation and aviation, current events, children's and more. Skyhorse's founder is industry veteran Tony Lyons, former CEO of The Lyons Press. Learn more at www.SkyhorsePublishing.com.