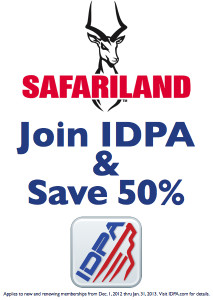 BERRYVILLE, Ark. – Thanks to a partnership between the International Defensive Pistol Association (IDPA) and leading holster manufacturer Safariland, the ideal gift this holiday season is a membership in the fastest growing shooting sport around.
Join IDPA, or renew your membership, during the months of December and January and receive a special 50% Holsters.com discount card from Safariland. The one-time-use discount card is good for use on Holsters.com toward the purchase of gear with a retail value totaling up to a maximum of $1,000 before the 50% discount is applied – allowing new and renewing IDPA members to save up to $500 in new Safariland®, Bianchi®, Break-Free® and KleenBore™ products.
The Safariland IDPA Membership Promotion runs from December 1, 2012 thru January 31, 2013.
To take advantage of this special Safariland promotion current (or lapsed) members of IDPA should use the online renewal process. Those joining IDPA for the very first time should fill out the new member online application. Once the new membership or renewal process is completed, IDPA will send you your Holsters.com 50% discount card along with your membership materials.
Fore more information on IDPA, visit IDPA.com. You can also connect with IDPA online by following @OfficialIDPA on Twitter, like ShootIDPA on Facebook, watch IDPA TV, or check for regular updates on the DOWN ZERO Blog.