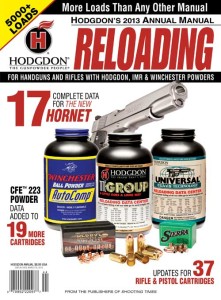 Shawnee, Kansas December 2012. Hodgdon® The Brand That's True announces that the highly popular Annual Manual is back for its 10th consecutive year. The 2013 Annual Manual is teeming with over 160 pages of data including fresh information on 37 rifle and pistol cartridges, fifty-six pages of new articles from some of the best known outdoor writers, charts and graphs, and seven pages of detailed descriptions of Hodgdon®, IMR® and Winchester® branded powders.
New for 2013 is recently developed 17 Hornet data. In addition, there are hundreds of added handloads in nineteen cartridges featuring Hodgdon's best selling CFE®223 "Copper Fouling Eraser" powder.
Get the complete source for reloading data with the 2013 Annual Manual at newsstands and Hodgdon dealers everywhere in January 2013 for only $8.99.
For more information visit hodgdon.com, call 913-362-9455 Monday-Thursday 7a-5:30p CST or write to 6430 Vista Drive, Shawnee, KS 66218