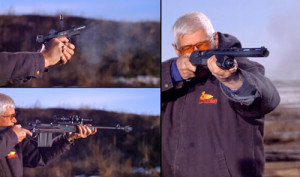 In this last episode of season 12, host Michael Bane picks three guns that he thinks are standout weapons of the past year. We also crown our season winner of the Ruger Rimfire Celebrity Challenge and we visit with a Hollywood legend who played opposite Clint Eastwood. Alan Gottlieb joins us to talk about where we are with our Second Amendment rights. This is also our best of episode where we take a look back at some of the highlights of the season.
See below for links to more information.
Episode #156 – Season 12.
First Aired: 03-21-12
Airtimes on Outdoor Channel: 06-20-12 at 4:00PM | 06-20-12 at 9:00PM | 06-21-12 at 2:30AM, all times Eastern.
Show Sponsors:
Crimson Trace * Midway USA * Ruger Firearms * Stag Arms * Streamlight * Double Star * Daniel Defense * Taurus * Streamlight
Episode Reference Links:
Michael Bane's Wardrobe provided by:
Woolrich Elite Series Tactical
Rand Custom Hats
Other reference links:
Colt Rail Gun DRTV Video Review
The Rebirth of Colonel Cooper's Scout Rifle (Video)
Episodes this season: