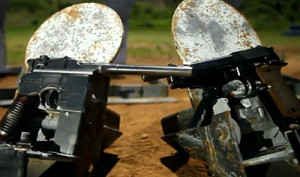 This week, Iain Harrison and Mike Seeklander are competing with machine pistols, the Mauser C96 and the Beretta 93R. History's greatest weapons, from two different eras, battle it out for supremacy in MidwayUSA's Rapid Fire!
First aired on 11-14-12
Air times on Outdoor Channel: 05-15-13 at 2:00PM | 05-15-13 at 7:30PM | 05-17-13 at 11:30PM. All times Eastern.
Reference Links: