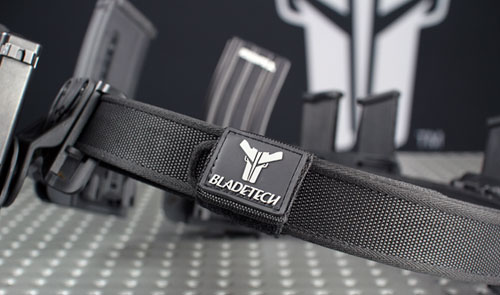 Puyallup, WA December 11, 2012– Blade-Tech Industries, the leading manufacturer of custom thermoplastic and injection molded tactical holsters and magazine pouches, has added a new reinforced nylon Competition Belt to its product offering.
Blade-Tech gear is some of the most trusted and used across many of the organized shooting sports. Due to demand from customers, Blade-Tech teamed up with Rescomp to have belts made to fit Blade-Tech's expectations for high quality and durability. Rescomp is the manufacture of the very popular CR Speed series of competition belts.
The Blade-Tech Competition Belt comes with an inner and outer sewn nylon belt. The reinforced outer belt provides the wearer a stable platform to attach their Blade-Tech holster and magazine pouches. The Competition Belt is buckleless, comes with a non-aggressive, shooter friendly Velcro® attachment system, and comes with a keeper that has Blade-Tech's logo proudly sewn on.
All Blade-Tech holsters and pouches are light weight and comfortable, while remaining tough and waterproof. Each design is custom molded to fit the specific weapon model, giving them excellent retention qualities while providing an extremely fast presentation. Blade-Tech preforms rigorous field-testing on all its products, conducted by law enforcement and military personnel. Blade-Tech is a proud supporter of the shooting sports and the Second Amendment. To learn more about the array of products produced by Blade-Tech Industries, please visit their website at: www.blade-tech.com